A371 road closed for Ansford rail bridge repairs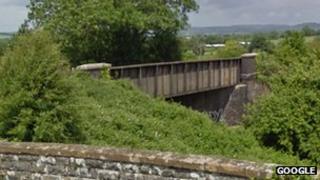 A road in Somerset has closed for five months of urgent repair work which local traders say will have a major impact on their businesses.
Network Rail has closed the A371 for 19 weeks in order to repair Ansford Bridge, near Castle Cary.
The company said it was not legally obliged to compensate traders for loss of business.
While the bridge is closed for repairs, some local drivers will face an 18-mile diversion.
Richard Fry of Frampton's Haulage, based in Shepton Mallet, said the diversion for HGV drivers would be 32 miles, which he said would mean a "massive cost" of more than £300,000 to his business.
Mr Fry said Network Rail should have resolved the issue by putting a temporary bridge in place while the work is carried out, but the company said the estimated £1m cost of installing such a bridge would be prohibitive.
About 400 people attended a public meeting in May to voice their concerns about the road closure.
'No legal basis'
At the same time, South Somerset District Council polled seven local companies which calculated their increased labour, fuel and vehicle maintenance costs resulting from the road closure would be more than £800,000.
The businesses questioned included a pet food supplier, a waste management company and a cheese-maker.
The authority said traders should apply to the Valuation Office Agency for a reduction in rates while the work is being carried out, and urged them to press Network Rail for compensation.
The train operator said there was "no legal basis" for such a claim in the absence of physical damage to property or person.
It said it had followed the correct processes and had a legal right and obligation to renew and maintain the railway's infrastructure.