Tesco quizzed by Bath campaigners in public inquiry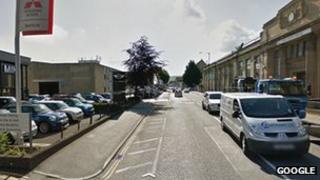 Opponents against a new Tesco in Bath are due to cross-examine the store representatives in a public inquiry.
The Federation of Bath Residents' Associations is against plans for the store to be built on Lower Bristol Road on the former Bath Press Site.
Patrick Rotheram from the group has said the store would be on a busy junction and would increase congestion.
Tesco has been arguing that the store would be "an exciting regeneration project" creating 600 jobs.
The supermarket giant already owns the site. It plans to build a basement car park with 400 spaces as well as office space.
'Already congested'
Mr Rotheram said: "The proposed site is one of the busiest junctions on the A36 Lower Bristol Road and is the main east-west through route.
"It's already congested on the morning and evening peaks and on Saturdays and adding up to 800 vehicle movements an hour on a junction like that which is already clogged is bound to increase congestion.
"It'll affect the whole city because what motorists do is, if one road's congested then they'll take another and the one they'll take is right through the centre of Georgian Bath."
After the plans were rejected by Bath and North East Somerset Council, Tesco appealed the decision taking the plans to a public inquiry.
A spokesman for the firm said: "This is an exciting regeneration project for Bath and the store is only one element of the plans and demand for the 600 jobs the development would create has never been stronger."
The inquiry will last until the end of the week, and the outcome is due in a few month's time.