Baroness coach crash driver Norman Markus fined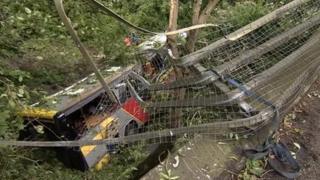 The driver of a coach that plunged off a viaduct near Bath while carrying a US rock band has been fined £365.
Norman Markus did not appear at Bath Magistrates' Court but pleaded guilty via his lawyer to careless driving and using a vehicle with defective brakes.
Other charges against him, including dangerous driving, were dropped.
Magistrate Margaret Gilmour said the attention the case had attracted was dramatic but they had to "deal with the offences as charged".
The court heard self-employed Markus was still recovering from the crash at home in Germany and that as he had no income his parents would be paying the fine.
Prosecutor Jeremy Oliver told the court that 39-year-old Markus was transporting the band Baroness when his coach crashed at the bottom of Brassknocker Hill, Monkton Combe, on 15 August.
He said that Markus suffered serious leg and pelvic injuries, and his passengers' injuries ranged from cuts and bruises to damaged vertebrae.
'Ill-judged decision'
Mr Oliver said the vehicle was inspected and found to have defective brakes. The band members had said the defects were known about, which led to the original charges against Markus.
But, he said, when Markus was spoken to he said he had been aware of the defective brakes and had taken the coach to a garage in Germany to be fixed.
"He had no further trouble with the brakes and had driven through Europe to England, across England, and there hadn't been a problem until the slightly ill-judged decision to use sat-nav to drive to Southampton using that very steep hill," Mr Oliver said.
Tachograph charges against Markus were dropped, Mr Oliver said, because tachographs only need to be fitted to vehicles designed to carry more than eight people.
While Markus was driving the coach, there were beds and living space inside rather than a large number of seats, he said.
Murray Oliver, defending Markus, said his client had "a very large operation to rebuild his waist" and had not fully recovered.
'Living with parents'
Markus' main asset - his coach - had been destroyed in the crash, he said, and he was not in a position to convert another vehicle or work as a second driver on somebody else's.
He said Markus had moved back in with his parents who were paying his living costs as he was not currently eligible for benefits.
"The effect of this accident is far greater than any punishment this court or a higher court... could give," he said.
Markus's legal fees and compensation to the injured band members had been covered by his insurance policy, he said.
"I've taken his instruction on paying fines. He has no means, he will have to ask his parents to pay that," he added.
He was fined £265 for careless driving and £100 for using defective brakes. He was also ordered to pay costs of £35 and a victim surcharge of £26.
Chief Inspector Yannis Georgiou, of Avon and Somerset's Roads Policing Unit, said: "We fully investigated the circumstances of this serious incident on behalf of the Crown Prosecution Service and we respect the decision of the courts."