Trust removes bench found 50ft up a tree in Somerset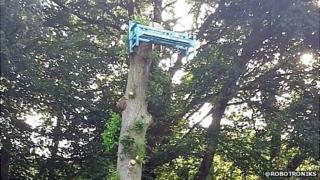 A blue park bench discovered at the top of a tree in Somerset has been removed by the Canal and River Trust.
The bench was first spotted last Friday near Dundas on the Kennet and Avon Canal by Ben Carey, biking into work.
"It must have been about 50ft (15m) up in the air - I'm still a bit puzzled as to how they got it up there," he said.
A spokesman for the trust said: "Unfortunately, we have had to go up there and get it down as we had no idea how securely it had been attached."
Along the 10 mile (16km) stretch of canal between Bradford on Avon and Bath there are a number of art installations including a bike hanging from a tree and a boat covered in hubcaps.
"There's actually loads of cool art along the towpath, I cycle along it every day," said Mr Carey.
"But this was something particularly impressive."
'More canal art'
Despite not being suspended over the tow path itself, the blue bench had been installed on trust land and so a week after appearing it has been removed.
"We're pretty much certain it was an art installation," said a trust spokesman.
"And I think it's great but there could be the danger it was going to fall on some unsuspecting person below.
"We do want to get more art on the canals so if you're an artist and have something in mind, get in touch with us first and we'll see if it can be done."