Avon and Somerset police speed camera plea gets mixed response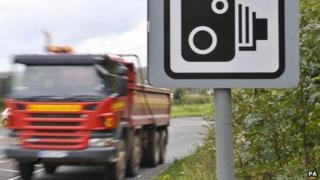 A plea from the chief constable of Avon and Somerset to turn fixed speed cameras back on has been met with a mixed response from councils.
Nick Gargan wrote to authorities last month offering to help them reactivate cameras which were turned off in 2011.
North Somerset Council said the devices were "totally unnecessary" while Bath and North East Somerset Council said it supported the idea in principle.
Other local authorities said they were in talks with police about the idea.
Fixed speed cameras and cameras monitoring junctions were switched off in 2011 after the government stopped funding the Safety Camera Partnership, and the police and councils said they could not afford to pay for them.
'Create revenue'
In June, Mr Gargan said he had written to the five local councils saying he had "not seen any evidence of any value that say speed cameras harm".
"I have seen evidence that on balance they can help and reduce casualties," he added.
"When I first arrived as chief constable, I was quite surprised to learn that the cameras had been switched off.
"The evidence steers me firmly in the direction of trying to get them switched back on."
But councillor Elfan ap Rees, from North Somerset Council, said: "We think speed cameras are totally unnecessary, they only create revenue for the camera enforcement authority.
"The money we save can be better used in road safety improvements."
A spokesman for Bath and North East Somerset Council said: "Although [the] council is supportive in principle of the police proposal to re-commission static speed cameras, the council has only two digital camera sites which are capable of being reactivated.
"Accident levels at both sites have remained low since the 2011 switch-off; therefore the council cannot justify the initial start-up expenditure."
A Somerset County Council spokesman said the council had written back asking: "Why did the police advise us to switch off the cameras in 2010, what has changed since then, and what accidents have been reported at the scene of former traffic camera sites?"
A South Gloucestershire Council spokesperson said it was "awaiting further details on the proposals before any decision".
In May, Bristol's elected mayor, George Ferguson, said he had been in talks with the constabulary and the office of the Police and Crime Commissioner, Sue Mountstevens, about reactivating cameras.