Taunton Brewhouse Theatre rescue plan progress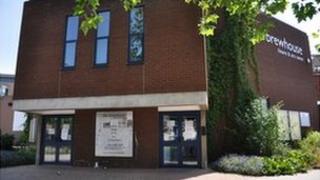 A "potential solution" has been found to re-open a bankrupt theatre in Taunton, the local authority has said.
Since the Brewhouse Theatre closed in February, Taunton Deane Borough Council has been negotiating with administrators to buy its lease.
The council, which already owns the land, hopes to buy the lease and hand over the running of the arts venue to a community organisation.
The proposal will be put to the full council on the 23 July.
No other potential buyers have come forward, while an initial bid from the local authority to buy the lease was rejected in April.
Cabinet member, Norman Cavil, said: "We have talked with the administrators and have a potential solution."
A spokesman for administrators BDO said: "It is the joint administrators' duty to realise the value in the lease by selling it to a new operator.
"The deadline for bids from prospective purchasers closed on 12 April but the joint administrators continue to evaluate and negotiate offers with interested parties, and detailed due diligence is under way.
"We hope to be able to make a formal announcement soon."