Bath Abbey ledger stones studied before repair work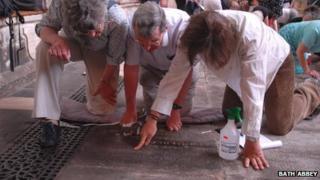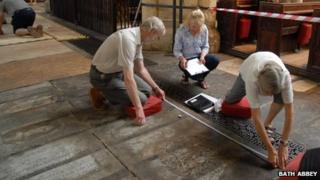 Grave ledger stones are being studied by volunteers inside Bath Abbey as work begins to install under-floor heating.
Repairs and a heating trial are being carried out on a small section which, if successful, will be carried out on the whole floor of the Abbey.
More than 30 volunteers are at work to record details off the ledger stones which have been hidden underneath pews since the 1870s.
It will be the first time in 100 years the floor has been lifted and repaired.
'Large and busy'
An Abbey spokesperson said the floor was at risk as time and regular use were causing it to collapse, leaving large voids.
These voids will be filled in before new heating is installed and the floor is re-laid.
Charles Curnock, Bath Abbey's Footprint Project director, said: "Many churches have a similar problem with their floor but none as large, or as busy, as Bath Abbey.
"We want to ensure the Abbey remains open and available to all throughout the repairs.
"Therefore we are working on just 5% of the floor whilst temporarily moving the entrance and exit doors."