Octogenarian sweethearts to marry in Somerset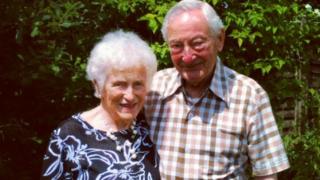 A couple who first met each other more than 80 years ago are to tie the knot after spending most of their lives on opposite sides of the world.
Bob Humphries, 89, and Bernie Bluett, 87, were childhood sweethearts but lost touch during World War II.
They went on to marry other people, and Mrs Bluett emigrated to New Zealand.
After both were widowed they made contact again in 2011 when Mrs Bluett's daughter discovered Mr Humphries was living in Somerset.
They will be married in the village of Pawlett near Bridgwater on Saturday.
During the war the couple wrote regularly to each other but Mr Humphries' letters were never passed on by Mrs Bluett's parents.
She said: "Bob had made arrangements for us to get married but I knew nothing about that."
Mrs Bluett went on to marry an RAF pilot after she had received no contact from Mr Humphries for about two years, and they moved to New Zealand shortly afterwards.
Contact was re-established in 2011 when one of Mrs Bluett's daughters discovered that Mr Humphries was still alive.
Mrs Bluett then moved back to the UK.
Mr Humphries said: "I thought well here's a couple of elderly people who could help one another in one way or another, so the decision was made [to get married]."
"We both feel young at heart," added Mrs Bluett.