Somerset chooses Tory PPC in open primary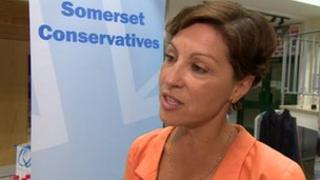 A new Conservative candidate for the Taunton Deane constituency has been chosen using an open primary.
Rebecca Pow was chosen after the vote held on Monday evening.
Ms Pow, said: "I think we needed a lot more people in politics who really feel for their area and want to do better for it."
The party opened up the selection to all residents eligible to vote as just under 4,000 votes separate them from the Liberal Democrat MP Jeremy Browne.
About half of the registered 250 people who took part in the vote were from the Conservative party.
David Fothergill from the Taunton Conservative Association, said: "The alternative is a few dozen people in the Conservative party make the selection.
"What we've got here is a wide cross-section of people from across the constituency that put themselves out and who've come here to help us to choose our next candidate and that's got to be very good for democracy."
The idea of open primaries was put forward by Prime Minister David Cameron, who promised 200 of them nationwide as part of the coalition agreement.
So far three constituencies have held open primaries - and Taunton Deane is the fourth.
Another open primary is due to be held in Somerset for the Yeovil seat in two weeks' time.