Pawlett couple who met in 1930s get married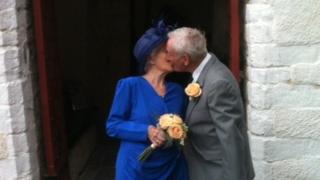 Childhood sweethearts Bob Humphries and Bernie Bluett have married nearly eighty years after they first met.
The Somerset couple who fell in love in their teens, but then lost contact, tied the knot at the ages of 87 and 89.
The couple, from Pawlett, have spent most of their lives on opposite sides of the world.
They married on Saturday afternoon at their parish church in Pawlett, surrounded by their friends and family.
After both were widowed they made contact again in 2011 when Mrs Bluett's daughter discovered Mr Humphries was also living in Somerset.