Gypsy Christian festival in Somerset attracts thousands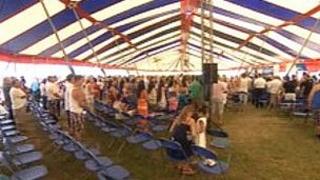 The organisers of a Christian Gypsy festival in Somerset have said it has been the "largest gathering" in its 30 year history.
An estimated 700 caravans are in the hamlet of Hewish for the annual Light and Life Church convention.
Organisers said the event had attracted up to 5,000 people who would be moving off the site by the weekend.
Avon and Somerset Police said they were working to help minimise possible disruption in the area.
The event, being held with the landowner's permission, began on Tuesday and is due to close on Friday.
Pastor Jackie Boyd, one of the organisers of the event, said: "We have 30 churches throughout the UK so people come from all over England, Scotland and Wales and there's people from Australia and from France.
"We've had a great time but because we're gypsies and Romanies - people are a little bit frightened sometimes, even though we say we're Christians."
According to Mr Boyd there has been a "very small amount of trouble" and most of those attending the event will be leaving the site on Friday.