Activists in Wedmore release 100 sheep from pens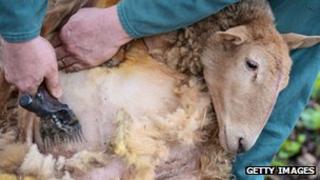 Activists in Somerset released more than 100 sheep from pens because they mistakenly believed they were being mistreated.
The activists contacted the Animal Health and Veterinary Laboratories Agency (AHVLA) but it found there were no welfare concerns.
The farmer said the action had stressed the animals.
The sheep had been put into pens overnight after being sheared, ready for release on to fresh pasture.
Robert Duckett said the pens contained food and water so the sheep could manage in the hot sunny weather.
"The upsetting part is with all the heat we've had it caused major stress," he said.
Scattered sheep
The day before, Mr Duckett and his son had spent six hours gathering the sheep from the fields ready for shearing.
After being released from their pens, the sheep scattered across the fields making it time-consuming and difficult to gather them again, he said.
"What worries me is the people who try to do good have done more harm by stressing these sheep - six hours of hunting around and six hours the day before - these poor animals don't need it.
"When they got there [back in the pens], they were glad to rest, but it was quite a lot of bother," added Mr Duckett.
The agency has said farmers regularly check whether animals have enough water and would be aware of the need for extra water during hot spells.
Neil Sampson from the AHVLA said: "The first line maybe is to contact the farmer direct but otherwise call the agency and we will despatch one of our officers and we will assess what the exact nature of the problem is."