Hurdler Dai Greene wants more elite athletes to visit schools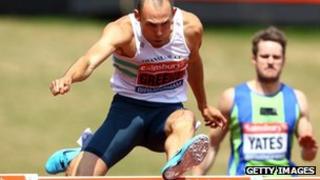 World champion hurdler Dai Greene has said more needs to be done to get elite athletes into schools, a year after the 2012 London Olympics opening ceremony.
Greene said he visited a school about once a month before the Games but had not been into a single school since.
The 27-year-old, who has trained at the University of Bath since 2009, wants the government to "get involved".
UK Sport said all athletes funded by them were asked to carry out up to five community visits a year.
Greene is the 400m hurdles champion at European, Commonwealth and World level.
'4,000 visits'
The Swansea Harrier told BBC Bristol: "There was a scheme I was involved in before the Olympics and I was going in on a regular basis, every month or two months, depending on whether I was in the country or not, but that scheme has finished.
"I knew a few athletes from around the area who did the same thing but obviously the network that we had setup has fallen apart now, so it's disappointing in that respect.
"I'm sure the government could do more to facilitate sportsmen visiting schools. I never had any sportsmen come to my school when I was youngster, and it would have been really inspiring."
Elite athletes, including Greene, are supported by a mixture of exchequer and lottery funding under awards given out by UK Sport.
A spokeswoman said that, as of 1 April, athletes on UK Sport's World Class Performance Programme were asked to carry out up to five visits a year.
'Sharing their passion'
She said they were not contracted to do so and many were still being educated about this as it was "relatively new" and some athletes had been out of the country or busy competing.
The spokeswoman said many athletes had already made many community appearances across the country - a total of 4,000 since the 2012 Olympics.
Of the 172 London 2012 medallists who reported back, it is estimated that 77% have made at least one school or community appearance, she said.
Andrea Arlidge, head teacher at Wellsway School in Keynsham, said Greene had visited them before the Olympics and it was "absolutely vital" for elite athletes to visit schools.
"We really did benefit from that. It's so important for young people in this country to keep elite athletes visiting schools and really sharing their passion and quite literally inspiring," she said.
Sports Minister Hugh Robertson said of Greene: "There's nothing to stop him simply ringing up schools and saying 'would you like me to come and visit?'."