World War II 'hero' boat needs funds for restoration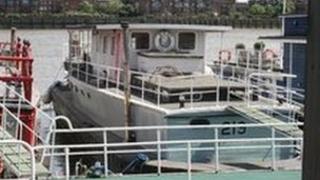 A World War II boat that attacked German battle cruisers in the English Channel could be destroyed unless £10,000 is raised by restorers.
Motor Torpedo Boat enthusiast Paul Childs was contacted by its owner, who said the boat has to be removed from the River Thames by September.
Mr Childs now hopes to transport the battled scarred MTB 219 back to Somerset to join his Watchet Warships.
The 73ft (22m) boat would then be restored to how it previously looked.
It would become one of five boats that are either on public display or undergoing restoration.
Mr Childs, who has also restored HMS Gay Archer, said: "It would be such a shame to lose such a war hero, but we're running out of time."
The motor torpedo boat is currently being used as a houseboat in a Thames barge, in Chelsea, but its hull has been condemned and it can no longer stay at its mooring.
But the cost of making the boat safe and transporting it from London to Watchet will cost £10,000 - before they even start to think about restoring the boat.
'Bullet holes'
The 219 was launched in July 1941 and used by the Royal Navy Coastal Forces branch - nicknamed "Iron Men in Wooden Boats" - who operated out of Dover.
"The 219 is the only surviving vessel of her type and still bears the scars of war damage including bullet holes in the forward saloon," Mr Childs said.
In February 1942 it was part of an attack on the "Channel Dash" German battle cruisers, Scharnhorst, Gneisneau and Prinz Eugen, as they sneaked through the English Channel to avoid the bombing in Brest.
Three months later the MTB 219 and other Coastal Forces' ships battled in the Dover Straits, sinking the German destroyer Seeadler and the Kreigsmarinewerft Iltis.
"We would like to add 219 to our flotilla in the west country so the public can come on board, see her and find out about the history of Coastal Forces and their exploits," Mr Childs said.
"But we haven't got the funds to do it on our own."
'Historic Ships Register'
The restoration of HMS Gay Archer was completely self-funded by Mr Childs and his wife, Rhian, who bought her for just £1, but then sold their house and possessions to fund her restoration.
Mr Childs said: "219's owner has kindly donated the boat to our museum and has even started a crowd funding page to help.
"The National Historic Ships Society have also agreed to help, but most heritage bodies either don't have an emergency fund we can access in time or will only support ships already on the Historic Fleet.
"About 95% of the original interior remains authentic, so she's on the National Historic Ships Register, but not yet part of the Historic Fleet."