Anti-begging campaign launched in Bath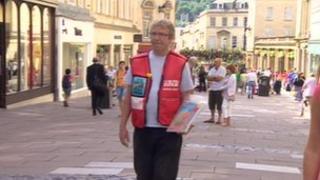 An initiative has been launched in Bath to combat an increase in aggressive beggars moving on to Big Issue pitches and refusing to move.
The magazine sellers are experiencing a loss in business and some have been threatened with violence.
The Big Issue Foundation wants people to donate to charities rather than give directly to people on the streets.
It said giving money to beggars gave them no reason to engage with the services that could help them.
In partnership with the police and other agencies, it plans to increase awareness amongst the public with a poster and flyer campaign.
'Killing with kindness'
The foundation's Samantha Grief said: "Bath has fantastic services for people who are vulnerable and don't have housing, but when people beg they don't engage with those services.
"They can make quite a lot of money begging so they have no reason to engage with housing support and drug and alcohol support.
"While the supply of begging money is there, people have no incentive to stop."
Bath Big Issue seller Ian Duff said his business had been directly affected by beggars moving on to his patch in the city centre.
He said he had been sworn at and threatened with violence by one beggar who accused him of reporting him to the police.
He said: "There's so much in Bath to help people who are homeless that they shouldn't need to beg.
"When people give money to a beggar they are killing them with kindness and stopping them getting out of begging and making something of their lives."
A spokesman for Avon and Somerset Police said the force was "actively working to tackle the issue of begging in Bath".
He added: "We know it is important to our local communities and it was agreed as a priority at our last 'Partners and Communities Together' meeting.
"We have taken out anti-social behaviour orders against some beggars and will carry out enforcement by uniformed and neighbourhood teams."