Teacher hit by car on charity dance gets to Land's End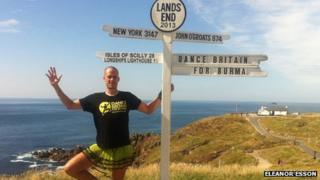 A Wiltshire teacher who was hit by a car while dancing from John O'Groats to Land's End has completed his challenge.
Ben Hammond, 34, was dancing in a tutu through Polsham near Wells on 3 October when he was struck by a car driven by Alanna Rugg, 25, from Wookey, Somerset.
Both he and his support cyclist were hospitalised and the event was put on hold.
Mr Hammond reached Land's End on Saturday evening raising thousands of pounds for human rights in Burma.
He said: "Eight years ago I taught for a year in a refugee camp on the Thai-Burma border, and the experience changed my life.
"On returning home I was determined to use my freedom to help those in Burma get theirs."
Mr Hammond's support team said the teacher had enjoyed a "big burst of energy" during the final mile and a half of his challenge.
Mr Hammond said: "I have been using dance to symbolise freedom - a freedom we have in the UK but which many in Burma haven't been able to enjoy, and I came perilously close to losing mine in the process.
"Yet thousands of people across the length and breadth of the country have gone out of their way to support this dream, and by finally finishing I hope I'll be paying them back in some small way."
In October 2012 Rugg pleaded guilty to three offences at South Somerset Magistrates' Court including drinking and driving and was sentenced to a community service order. She was banned from driving for 28 months.
Mr Hammond and his charity have so far raised more than £40,000 through the Dance Britain for Burma challenge.
He hopes to raise a total of £50,000.