Woman squats in public toilet in Bath to protest against closure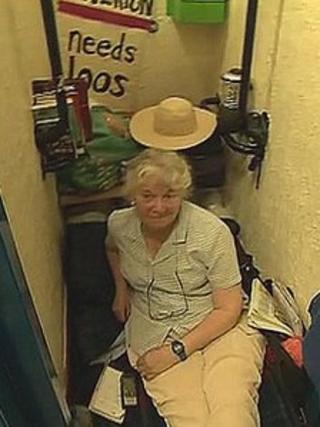 A 67-year-old woman has moved into a public toilet in Bath to protest against its closure by the council.
Lin Patterson, from Larkhall, took up occupation of the toilet in Twerton on Wednesday night and said she intends to stay there for at least three days.
The toilets were due to close on Thursday as part of Bath and North East Somerset Council's plan to save money.
Ms Patterson said local toilets "serve one of our most basic human needs" and closure "hurts the most vulnerable".
In December, the council announced a proposal to sell off or close 13 public toilets in and around Bath.
'Need to mobilise'
The authority, which owns 27 public toilets, said the closures could save £120,000 a year.
But Ms Patterson, who petitioned to another public toilet, in Larkhall, said the cuts were "unnecessary, unreasonable and unwanted".
"It's about the people who really need these toilets - the most vulnerable, elderly, women, children and disabled people," she said.
"Many people in Twerton still do not know our toilets are closing, and we need to know and mobilise."