Stoke St Michael traffic-calming measures 'ugly and intrusive'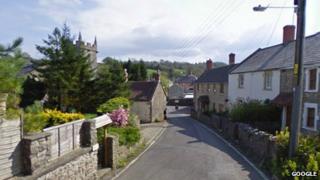 People living in a Somerset village say they are not happy with new traffic-calming measures recently installed.
The work in Stoke St Michael includes a new roundabout, build-outs with bollards fitted to slow traffic and new street lighting.
But campaigners claim the work is "very ugly and intrusive" with "cheap" street furniture.
Somerset County Council said officers had been made aware of the concerns raised by some villagers.
A spokesman said the local authority was aware of the additional lighting in the vicinity of the village pub.
"We are currently exploring options to reduce the visual impact," he added.
Campaigner and villager Anna Mearns said the lights looked like "something you'd find over a motorway junction".
"The lights are big and extremely bright," she said.
"On the build-outs the plastic red and white bollards are really not in keeping with the village and it's not clear how pedestrians navigate around them," Ms Mearns added.