Coastal path plan causes frustration in Somerset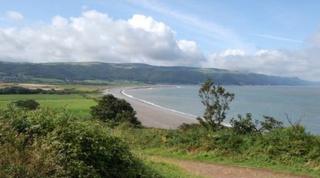 Farmers in Somerset may be forced to give up parts of their land without compensation if a new national coast path is approved later in the year.
Details of the England Coast Path will be released by Natural England.
The organisation has said it will try to prevent businesses losing "significant" income if it goes ahead.
But farmer Julian Browning said: "There are miles of other walks - 75% of this country has got a path around a cliff edge."
Tourism boost
Mr Browning said: "I don't see why they ought to be spending money in these austere times on putting one in the other 25% when people have plenty of walks to do."
He has said he would lose about £10,000 worth of acreage, and about £400 year in lost output, if the path goes ahead.
Land that meets the coastline will have to be given up under the plans, which would eventually allow people to walk about 2,800 miles (4,500km) around the whole of the English coast.
Regulations state the path must be 4m (13ft) wide.
A spokesman for Natural England said: "We will aim to prevent coastal businesses suffering significant loss of income from the introduction of coastal access rights.
"If, on the basis of the evidence available at the time, we are persuaded that significant loss of income is likely, we will include specific proposals to prevent it."
Others, including Somerset Area Ramblers, welcomed the proposed new route, saying it could boost tourism.
Vice chairman Roger Conway said: "Already we know the South West Coastal path has generated £200m a year on tourism and income."
But he said he was sceptical of the plans ever going ahead due to a lack of "political will" to make it happen.