Frome road cobbles planned to 'increase attractiveness'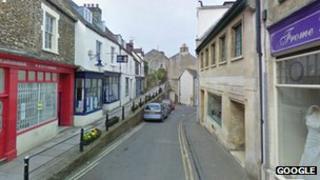 A road in Frome's "artisan quarter" could be resurfaced with stone cobbles to help make the town more attractive.
The town council wants to turn Palmer Street into a shared space for vehicles and pedestrians, using natural stone setts rather than tarmac.
It believes the St Catherine's area is becoming the town's restaurant and independent shopping quarter and wants to build on its attractiveness.
The cost, some £75,000, would be shared with Somerset County Council.
Peter Wheelhouse, from Frome Town Council, said a consultation with the St Catherine's Traders Association would first take place with a view to implementing the works in early 2014.
"We are seeing these proposals as the first part of a broader scheme to improve the appearance of the town centre and make it more pedestrian friendly," he said.
A traders' website for St Catherine's says the area dates back to the 17th Century and features shops selling arts and crafts, antiques and collectibles, clothing and more.