Somerset badger protest campers target Crown Estate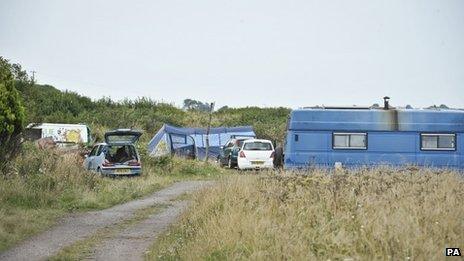 A campsite base for anti-badger cull protesters in Somerset could be moved on to land owned by the Crown.
Campaigners had set up a temporary Camp Badger site on private land near Watchet on Saturday, but the landowner has now asked them to move on.
Jay Tiernan, a spokesman for the Stop the Cull group, said the most likely place for a new protest camp would be on land owned by The Crown Estate.
The protesters had agreed to leave the former Doniford Halt site by 16:00 BST.
Government agency Natural England, which is overseeing the cull, said it would not disclose how many badgers had been shot since the pilot began.
Up to 12 people had been using the protest campsite, which comprised of cars, tents and minivans, but Mr Tiernan said many others were coming to the area and relying on staying with the group.
"We are just working out where we will regroup and looking at potential places to go," he added.
"Our most likely place is The Crown Estate, where there is an opportunity for us to set up a protest camp."
A spokesman said: "We respect people's right to peaceful protest."
The National Farmers' Union (NFU) confirmed on Tuesday that a badger cull was under way in Somerset.
About 5,000 badgers are expected to be killed over a six-week period in parts of west Somerset and west Gloucestershire.
Supporters say the cull is necessary to tackle bovine TB, which can be spread from infected badgers, and can make a meaningful contribution to controlling the disease.
However, opponents say a cull is inhumane and would be ineffective. They have fought the plans since the test areas were revealed last year.
Related Internet Links
The BBC is not responsible for the content of external sites.