Avon and Somerset Police 'will name officers accused of crimes'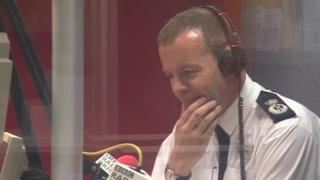 The chief constable of Avon and Somerset says he will now actively publish the names of officers charged with a criminal offence.
Nick Gargan says he is trying to promote a culture of transparency within the constabulary.
In the past such officers were not routinely named.
He said there was no reason they should be offered any extra degree of protection because of their membership of the police service.
'Openness promise'
Previously, the force had refused to name those facing charges, relating to issues such as misconduct, including common assault and perverting the course of justice.
He told a phone-in on BBC Radio Bristol he had been given the job on the basis of being more open.
"When that resolve is tested, whether from a newspaper, radio station, a member of the community or an aggrieved individual and say 'prove your openness by answering our questions'.
"I think it is reasonable to start my thinking from a position that says 'Hold on, maybe these people have got have a point?'", he added.
Mr Gargan's comments come after a Freedom of Information request from the Bristol Post newspaper which asked for details of officer misconduct and details of how they were disciplined, over the past three years.
The force published the information but refused to name those involved on legal advice.