Somerset children's centre closures 'would hit poor families'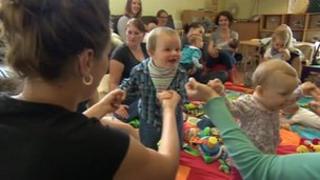 Opposition councillors say they fear some of the most vulnerable families will suffer if most of Somerset's children's centres close.
A county council review is looking at keeping only 14 of the 41 buildings open exclusively as children's centres.
The council said the centres' services could instead be moved to village halls, libraries or GP surgeries to save money.
The local Labour party said all the centres were needed in the county.
The council said its focus was to put resources into services rather than buildings or management.
'Most efficient way'
A consultation is currently under way about the plans.
A spokesman for the council said there were "no plans in place to close any children's centres in Somerset".
He added that it was still "our priority to ensure that a greater proportion of our resources goes on frontline delivery, rather than management and buildings.
The spokesman said: "We are proposing to continue all the activities our children's centres provide but will be looking hard at where potential savings can be made and this may lead to delivering the same services in a different way.
"We are looking at how to do this in the most efficient way and that might mean sharing buildings such as village halls, libraries or GP surgeries to keep costs down."
In the consultation document, Proposals for Change, the plans show 27 centres would be "deregistered", with 11 to 14 to have their services run out of other public buildings such as libraries.
The remaining 14 buildings would remain exclusively as children's centres in the most deprived areas of Somerset.
West Somerset Labour branch spokesman, Andy Lewis said: "There are only four of these children's centres to cover West Somerset and to cut back further they would just be covering areas which are much too big to get people through the door and to get people who need help with young families."
A council meeting is due to be held in November to discuss the issue.