Somerset canal weed-eating weevils declared success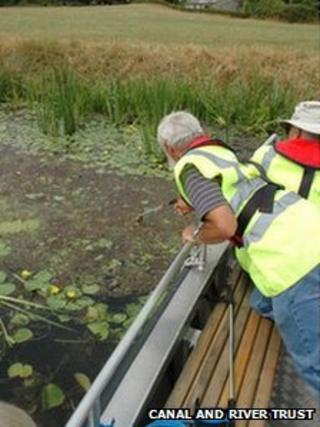 Scientists who released 1,000 weed-eating weevils into a Somerset canal to get rid of an invasive aquatic fern have declared the experiment a success.
The 2mm-long insects were dropped into the Bridgwater and Taunton Canal in July to eat up the plant azolla.
The Canal and River Trust said it was an "effective and cheap way" of eradicating the problem.
The weed reduces light and oxygen levels in the water, killing fish and other wildlife.
Ecologist Laura Plenty, from the Canal and River Trust, said: "We're delighted, the weevils have certainly done their job and the canal is free of this harmful weed.
"It's great news for all those who use the canal as azolla can be pretty damaging to wildlife and impact on navigation, if it is allowed to grow.
"We will continue to check the canal for signs that the azolla might be returning and if necessary put more weevils in."
She added: "We've used this method in a few other places around the country, and this is further proof that it is an extremely effective and cheap way of dealing with problematic weed."
The species of weevil (stenopelmus rufinasus) which they put into the canal at Kings Lock only eat this particular water weed, which is native to North America.