Rodden Lake Stream Meadows: Town council pledge £40,000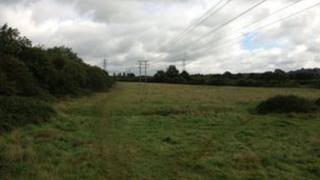 Frome Town Council has pledged £40,000 towards a campaign to buy a meadow for community use.
The owners of Rodden Lake Stream Meadows have up until now let people use the land, but have put it up for auction for £200,000.
Local residents have started a campaign to delay the auction so they can fundraise and buy it privately.
Town clerk, Paul Wynne, said councillors will work with the community to try and secure its future.
Fundraising ideas
The land at Styles Hill is a popular space for people to walk their dogs and is also home to meadow flowers, large hedgerows and wildlife with a public right of way along part of it.
The 72 acres (29.5 hectare) meadow is on a flood plain, with overhead pylons running along it and is close to Frome bypass.
Campaigner, Elaine Ewens, said: "We are going to set up a crowd-funding site where people can donate, we're open to any ideas."
The site is due to be auctioned off on 23 September by Cooper and Tanner.