Somerset's secondary schools fall 'below average'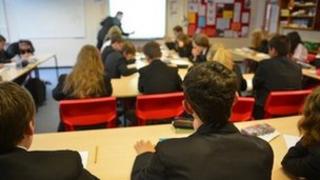 Nearly half of secondary schools in Somerset are "inadequate" or "require improvement", according to Ofsted - the government's schools watchdog.
At 44% the figure is below the England average of 26%.
Somerset has three schools rated "inadequate", with Court Fields in Wellington in special measures.
It has paired with Taunton's Castle School - which has some 1,220 pupils and was rated as "outstanding by Ofsted - to help it improve.
Compared with figures from 2011, Somerset's "inadequate" or "require improvement" figures show a slight improvement.
'Another surprise'
Somerset County Council said it was working with head teachers on the development of the Somerset Challenge.
"Somerset Challenge will be based on the London and Manchester Challenges, both of which led to significant improvements in those areas.
"[We have] also earmarked a significant sum of money to be invested with the aim of raising attainment in Somerset," the council spokesman added.
Paul James is the executive head of Crispin School in Street and St. Dunstan's in Glastonbury.
He said the report showing Crispin School "requires improvement" came "as a real surprise".
"We were inspected in June - which was another surprise - because in January I'd had a letter from HM Chief Inspector of Schools saying Crispin was a good school... and we would not be inspected until the summer of 2014.
"[June's rating] caused a good deal of unease in the community.
"Despite the fact we've got this judgement our aim continues to be the very best - and to be outstanding."
Chris Woodhead, one of Ofsted's former chief inspector of schools, said for a school to be graded "inadequate" or "requires improvement" it means the quality of its teaching is not high enough.
'Loud and clear'
"If the teaching is good the children learn - if it's not they don't," he said.
"The aim [of the Ofsted changes] is to raise expectations. Ofsted is raising the bar and I think they're right to do that.
"We should be expecting more of teachers, heads and schools because nothing matter more to this country, economically, socially and to individual parents than the education their children receive.
"If a school feels it hasn't been treated fairly [by inspectors] it should make its complaint loud and clear," he added.