Haynes to close Sparkford headquarters and distribution centre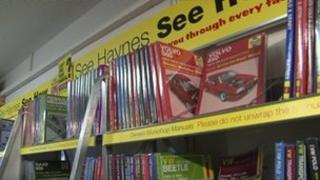 Car book publishers Haynes is closing its distribution centre and headquarters in Somerset due to falling sales of its books.
The headquarters in Sparkford will move to new premises and the company's in-house distribution centre will close, with work outsourced.
Haynes said job cuts would affect a "relatively small number of roles".
The company said it would now focus on workshop manuals for professional mechanics and on its digital platforms.
Chief executive Eric Oakley said its current headquarters, which employs about 70 people, "no longer meets the requirements of a modern information publishing business".
"The book distribution market has changed significantly," he said.
"The investment that would be needed to upgrade the UK facility for the requirements of a modern-day logistics operation would far outweigh the future benefit to the business.
"The board has therefore concluded it is no longer commercially feasible to maintain a UK distribution facility and the process of transferring this part of the business to a third party logistics provider will begin shortly."
'Financial footing'
In 2009 the firm sold its printing press to JF Prints but it closed down two years later.
No further details of the job cuts have been released.
Mr Oakley said: "Whilst any business decision which impacts on our existing and often long-serving employee base is difficult to make, the board believes that the changes to the UK operations are vital at this time to put the UK business back on a firm financial footing from which we can grow the business."
The company has said it is still looking for a new site for its company headquarters.
Sales of Haynes' car manuals fell 7% last year, while its general publishing sales were down 18%.