Somerset events 'face cancellation over road closure cost'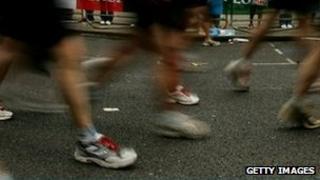 Long-running events in Somerset could be cancelled because of new road closure cost rules, organisers say.
Since the county council took over responsibility for some events from district councils, organisers must pay for adverts to publicise closed routes.
Some told BBC Somerset they were facing charges of between £500 and £1,000, and could not afford it.
The council said it was looking at reducing the cost for charity events.
Events which attract a lot of spectators - like a carnival - are still the responsibility of district councils and road closures remain free.
However, events that require road closures, with many people taking part but not so many watching - like a cycle race - are the responsibility of the county council and require two newspaper adverts.
Most of the money paid goes to the newspaper although there is also a small administrative charge by the council.
'Victorian legislation'
The Ilminster 10k race has already been cancelled as a result.
Harvey Siggs, the county council's cabinet member for highways, said: "A lot of road closures before we took them over were dealt with under the very ancient 1847 Town Police Clauses Act.
"That Victorian piece of legislation obviously wasn't fit for purpose now.
"A lot of questions came up through larger events, like the Olympic torch, and how we dealt with road closures over those and what it's thrown up is we have to take responsibility for road closures in a number of instances."
Mr Siggs said an advert in the Chard and Ilminster News for the Ilminster 10k would have cost £500.
He said the council could not afford to pay the costs itself and that he had written to the newspaper asking it to waive the fee, but the letter did not get printed.
BBC Somerset contacted the newspaper but it was unable to comment at this time.
'Bear cost'
A spokesman for the council said: "Road closures for sporting events such as the Ilminster 10k are now dealt with by the county council under Special Events legislation where there is a requirement to advertise the closures in the local press.
"The current charge to the event organiser is almost entirely made up of the charges levied by local newspapers for advertising public notices.
"We are looking at ways to change this, but in the meantime would urge anyone organising an event to come and speak to us."
Robin Calendar, from Glastonbury Road Run, which is in its 37th year, said they had to pay £570 to publicise this year's event.
"It's significant and obviously the more you have to spend on set-up costs the less there is for people like the scouts and carnival clubs and others who help us put it on," he said.
"Because of the size of the event we could bear the additional cost, but I can see for smaller events it's a much bigger issue."