Somerset County Council discusses County Hall future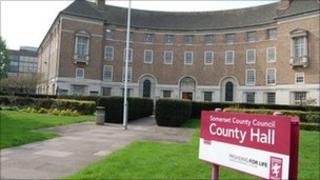 Parts of Somerset County Council's Taunton headquarters could be demolished, boarded up or sold off.
A strategy paper seen by the BBC shows the council is looking at various options for the future of County Hall.
The council has refused to comment directly on the paper but admits it is considering all options when it comes to using its buildings effectively.
The matter will be discussed in private next month, with a decision due in November.
'Still investigating'
A statement from a council spokesman said: "Somerset County Council has been very clear over the past few years that all options for the most effective and efficient use of its buildings are being considered.
"No decisions have been taken and we are still investigating to ensure any decision made is in the best interests of the people of Somerset."
Other options include sharing parts the building with public sector bodies such as the police and fire service.
In 2012, the local authority discussed selling or leasing part of the seven-storey County Hall for student accommodation.
County Hall is the main base for many council services and the locations for most committee meetings.