Sustrans critical of Bath's London Road revamp proposed by council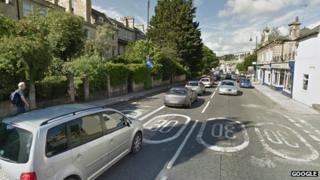 Plans to redevelop one of Bath's main commuter routes have been branded as "dangerous" by a pro-cycling charity.
Bath and North East Somerset Council has been consulting on plans to realign pavements and plant trees, as well as improve parking on London Road.
Sustrans said the proposed layout puts cyclists into pinch-points with vehicles and expects them to move in and out of the flow of traffic.
The council said it had consulted with residents and businesses in the area.
'Statutory consultees'
"I'm a bit frustrated that we've been accused of not consulting properly - the proper consolation periods have been observed and the proper consultees told," a council spokesman said.
"It's disappointing [that Sustrans had not been told] and maybe we have to look at how we consult with groups who aren't statutory consultees.
"This was always designed to be a community scheme to improve the environment so we started with people who live and work there... so it's their ideas that have gone into the initial plan."
Sustrans said if any lessons needed to be learned it is that there are cycling groups in Bath representing a huge number of people and they need to be properly consulted.
"The road layout as proposed by the architects and community isn't particularly great for cyclists [and] puts bike riders into dangerous positions.
"The overall consideration for that corridor in terms of transport is a little bit ill-conceived," the Sustrans spokesman added.