National Trust rejects Beechen Cliff takeover plan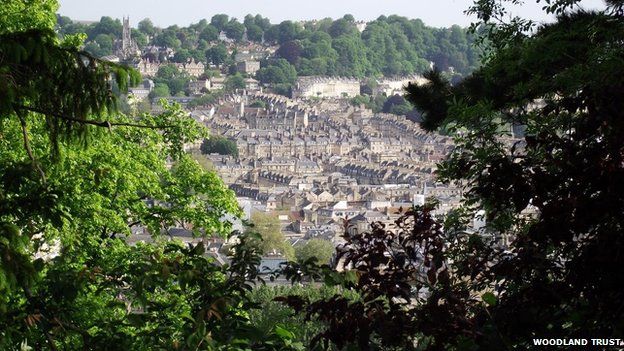 The National Trust has rejected a council request to take over the management of a cliff in Bath.
Bath and North East Somerset Council wanted the charity to take charge of Beechen Cliff, a proposal which had been supported by local trust members.
However, a charity spokeswoman said it had rejected the plan due to the threat to the land being "not sufficient".
She added that the organisation also wanted to avoid liability should the cliff ever become unstable.
As a result, the heavily-wooded cliff will remain under the management of the council.
The council's cabinet member for neighbourhoods, Liberal Democrat councillor David Dixon, said the authority would "continue to manage Beechen Cliff to high standards".
He added that the council would also "work with partners, such as the local National Trust, to identify opportunities for improvement, like footpath surfacing, tree management and directional signage".
Conservative councillor Patrick Anketell-Jones said the council "should now bring forward alternative proposals setting out what it plans to do to restore the cliffs to their former glory and keep them better maintained".
The National Trust manages neighbouring land on the Bath skyline and so local representatives believed the proposal was worth studying.
Wendy Stott, the charity's general manager for Bath, said that "many people in Bath were keen for the National Trust to take on the management and we understand the disappointment this will cause".
"Unfortunately, we also have to safeguard the Trust's position and not take on risks which would be too much for us," she said.
Related Internet Links
The BBC is not responsible for the content of external sites.