Somerset County Council £4m budget cut approved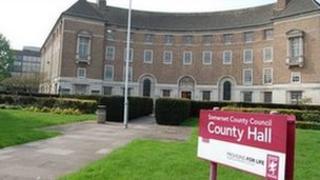 A plan to cut £4m from Somerset County Council's budget for next year has been approved by the authority's cabinet.
The saving is phase one of the Conservative-led council's efforts to cut a total of £30.4m from its 2014/15 budget.
Some 60 jobs could be axed, buildings sold, community recycling sites shut and museums shifted to a not-for-profit trust, as part of the proposals.
The financial plan will now need to be agreed by full council on 20 November.
'Tough year'
A reduction in government funding, increased costs and rising demand on its services, has been blamed for a £106m "black hole" in the council's finances over the next four years.
Council Leader John Osman said: "This is a very tough year for Somerset and this first phase of savings has been incredibly difficult.
"We have run roadshows and consultation events to listen to the public and in some cases we have changed or even stopped suggested proposals as a result of what we have learned."
Leader of the opposition, Liberal Democrat Sam Crabbe, said his party was studying in detail the proposals and would formulate its objection for the full council meeting.
"We deplore cutting services to the vulnerable, especially to children and the elderly, when they [the Cabinet] are not looking to ensure that services cover their costs in other areas," he said.