Diocese of Bath and Wells 'cannot support' bishop's palace move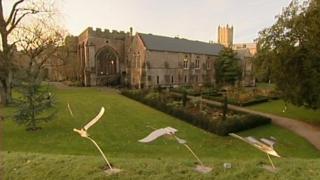 The Diocese of Bath and Wells has said it cannot support a decision to move the new bishop out of a flat in the 800-year-old Bishop's Palace.
Church Commissioners have argued moving the bishop's home would allow him to live in privacy while the palace and gardens remained open to the public.
But more than 150 people packed into a public meeting in Wells on Saturday to voice their anger at the plans.
Wells MP Tessa Munt called the decision "ludicrous".
The Right Reverend Peter Hancock will work and worship at the palace but Church commissioners are buying a former rectory in nearby Croscombe to be his temporary residence - while they look for a permanent house in Wells.
Case 'not made'
The Bishop of Taunton and senior members of the Diocese of Bath and Wells said that "despite ample time and opportunity", the Church Commissioners had failed to undertake an effective consultation.
A statement added: "Instead they have taken a unilateral decision which has, sadly, cast a shadow over the announcement of our next bishop.
"Based on the scarce information made available to us by the Commissioners, the Diocese cannot support their decision. If there is a persuasive case for the move, it has yet to be made."
The Diocese has called upon the Church Commissioners to allow the new bishop to begin his new role in residence at the palace while a "full and proper consultation" takes place.
Speaking after the meeting Ms Munt said: "There's been no aspect of consulting people locally at all, and I think it is absolutely ludicrous.
"There is absolutely no basis for making the decision to remove the bishop from the bishop's palace... and there is absolute silence on what makes it unsuitable."
Ms Munt said the decision could still be reversed. She said she would be submitting more questions to the Church Commissioners and called for a review of the decision.
Bishop Hancock was appointed after the Right Reverend Peter Price stepped down in June.
Church Commissioners previously said the move would help the new bishop "carry out his ministry and mission in a more sustainable way".