Somerset floods: Rising cost to businesses of £1.2m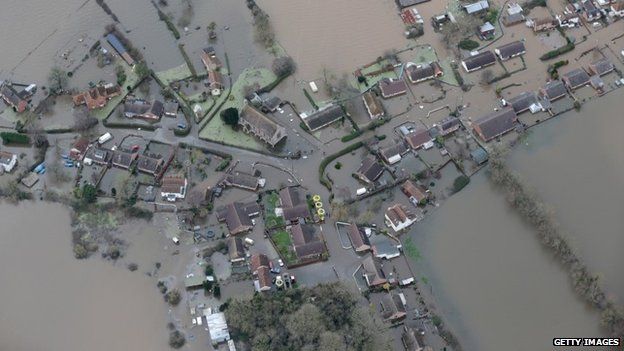 Flooding in Somerset has so far cost local businesses an average of £17,352, the Chamber of Commerce has said.
A "snapshot survey" carried out by the group suggests a total of £1.23m has been lost, in just six weeks, in financial terms and lost productivity.
Somerset Chamber of Commerce said the figures were "only going to increase" the longer the flooding remained.
The chamber asked 170 businesses but only had 71 responses, with many saying it was too early to gauge the impact.
The survey responses suggest 70% had been affected by the flooding, with almost 40% facing a reduction in customers and more than 35% seeing a fall in sales.
On average, trade is estimated to be down around a quarter.
Prime Minister David Cameron announced on Monday a £10m fund to help businesses recover from the floods.
This has been welcomed by Rupert Cox, chief executive of the Somerset Chamber of Commerce, but he believes the reality is the allocated money will only "scratch the surface".
"The findings from our snapshot survey do not include the many businesses still without power or broadband connection, or without the time to complete a survey as they're fighting to keep the water out of their homes and premises," he said.
"Many say it is too early to gauge the impact on their businesses, as until the water subsides it is difficult to know the full extent of the damage caused.
"Yet from our initial research, over £1.23m is already estimated to have been lost by those businesses that did complete the survey.
"If the rain continues and the water does not subside, this is only going to increase."
Flooding has caused major disruption in large parts of the Somerset Levels since the end of last year, with villages isolated and many homes evacuated.
Related Internet Links
The BBC is not responsible for the content of external sites.