Bus becomes trapped in hole in road in Weston-super-Mare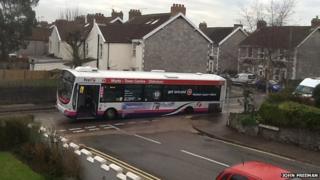 A bus has become trapped in a metre-wide hole that appeared in a road in Weston-super-Mare.
The vehicle, operated by First, was travelling on Milton Road in the town when the accident happened.
A spokesman for Avon and Somerset Police said a burst water-main was to blame for the collapse.
Eyewitness Elizabeth Island said "the drain must have subsided" because the bus "cannot move and the road is now flooding".
She added the driver was "in distress" after the incident which has seen the road closed by the police.
Peter Butcher, a North Somerset Council engineer, said the bus "broke through the surface" after the water-main burst beneath it.
"Until we get this bus out of the way we're not going to be able to see what damage has been done," he added.
A First Bus spokesman said: "There were passengers on board the bus at the time of the incident but no-one has been injured."