Investigation to begin in Bath nightclub after fire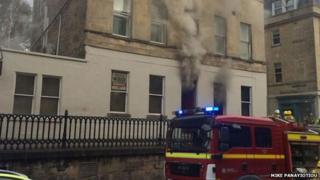 Firefighters have confirmed no-one was inside a Bath nightclub where a fire broke out on Saturday morning.
The blaze occurred at Moles in George Street, part of which also serves as a musicians' recording studio.
Avon Fire and Rescue Group Manager Russ Bennett said it had received "initial reports of members of a band sleeping in an upper floor".
But, following the search, he added: "I can confirm that no-one was in the building."
"We received a call from a neighbour around 08:50am who heard the alarm and saw smoke."
The fire on the ground floor is now out and an investigation into the cause of the fire will begin when the building is deemed safe to enter.
Moles Nightclub tweeted: "Thanks to everyone for their concerns about the fire. Happy to report no-one was in the Venue/Studio."
Tribute band The Smyths, who played at Moles on Friday night, said on Twitter: "We also hope that Moles will survive - great club. We've had many a happy hour there - as did the real Smiths."