Dutch pumps may move from Huntworth on Somerset Levels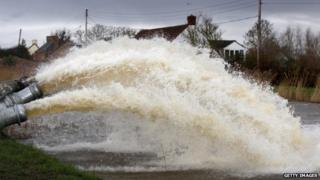 Four high volume pumps on the Somerset Levels could be removed later, the Environment Agency has confirmed.
The Dutch pumps at Huntworth were brought in as a defensive measure during the "biggest pumping operation ever" in the county.
A spokesman for the agency said they will be sent back to the Netherlands.
Other pumps continue to work at Dunball and Beer Wall and the agency hopes to clear all roads in the county of flood water within the next three weeks.
'Considerable concerns'
Tim De Winton, from the Environment Agency, said the pumping operation had been helped by recent good weather, but added there was "still a lot of water out there".
"We've still got considerable concerns about moving volumes [of water] and particularly in areas affecting the A361 and around Langport and on the Northmoor area as well," he said.
Tonnes of equipment was brought in by the Environment Agency with eight pumps still in operation at Dunball and four at Beer Wall near Bridgwater.
But Mr De Winton said they no longer believed the pumps at Huntworth were necessary.
"They are big pumps and they need some pretty heavy machinery to come in there and move those...but we believe those pumps are no longer needed at this stage so we are going to look to remove them," he said.
He added they were working to clear the flood water off "most, if not all of the roads" by 22 March.
"Then the effort will be very much focused on removing as much water as possible from flooded farmland," he said.
"So we are looking at a pumping operation that certainly goes through the rest of March and certainly into early April."