Incorrect apostrophe sign in Somerset replaced after complaints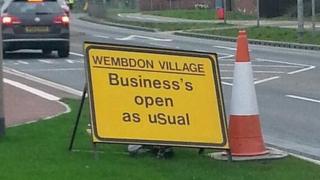 A road sign in a Somerset village containing a rogue apostrophe has been corrected following complaints.
The sign in Wembdon, which says "Business's open as usual", went up at the start of a six-month road closure.
But the local pub and shop said they had been struggling after being "cut off" from the road, and the "unhelpful" sign had added "insult to injury".
Somerset County Council said the signs on site would be "improved following local feedback".
The village is on the B3339 linking nearby Bridgwater to Cannington.
But since the road closed into the village, Mr Parsons said he had suffered a 25% drop in trade.
"There are only two businesses here, us and the village pub, and we both rely on the road to keep things going and they've cut us off," he said.
'Proper signage'
Chrissie Melhuish, who runs The Cottage Inn, said they had asked for "proper signage" but until recently had only been given one sign, which contained a grammatical error.
"We said it would really help if they put 'post office and pub' on the sign but they said that would be advertising," she said.
"And we wanted a sign at the other end of the closed road but they said there wasn't enough space.
"It's like they've put in the 'roadworks' and 'road closed' signs and haven't considered us at all."
A council spokesman said contractors were "working hard to finish the job as quickly as possible.
"But there will inevitably be some disruption while work takes place," he said.
"The signs on site will be improved following local feedback."