Apology after Bath hospital maternity patients experience 'never event'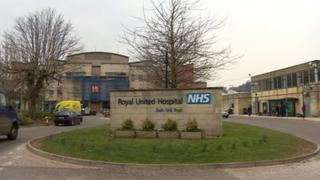 Health officials have issued an apology and started an investigation after two new mothers had swabs left inside them after giving birth.
The "never events" happened in February at the Royal United Hospital's maternity unit in Bath, which is run by Swindon's Great Western Hospitals NHS Trust.
The trust's chief nurse, Hilary Walker, said it was "completely unacceptable".
She said the women did not come to any physical harm.
The incident is being treated as a so-called "never event" - something the government says should never happen if patient safety rules are followed.
A spokeswoman for the trust said the incidents followed natural births and the swabs were removed without the need for surgery.
'Reviewing safety systems'
Ms Walker added: "We are extremely disappointed and have apologised to the women concerned.
"We have commissioned an independent investigation to find out why these incidents happened and what needs to be done to prevent them happening again."
The trust delivers more than 9,000 babies each year across Swindon, Wiltshire and Bath.
Ms Walker said that "as an absolute priority" it was reviewing safety systems and procedures and random spot checks were being carried out.
Regular safety briefings and training is also taking place.
In June last year the BBC reported a medical swab was left inside a woman for 10 days after she gave birth at the same maternity ward.
Royal United Hospital Bath NHS Trust will be taking responsibility for the maternity service at the Royal United Hospital from June.