Peter Brock: Yeovil councillor sentenced for theft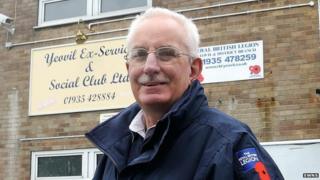 A Somerset councillor who stole from the Royal British Legion while branch chairman has been given a community sentence and told to repay the money.
Peter Brock, 57, took £1,200 from the Yeovil branch by writing himself 23 cheques to cash when chairman in 2009.
He pleaded guilty to three counts of theft and asked for 20 other offences to be taken into consideration.
A judge at Yeovil Magistrates' Court said his actions had been "despicable" and gave him a 12-month sentence.
In court, district judge Lyn Matthews told Brock the Royal British Legion was not there to help people in financial difficulties and people would be horrified he stole from a charity.
He was ordered to do 150 hours of unpaid work for community benefit, repay the Legion £1,231 pounds and pay £85 pounds in costs.
Yeovil Town Council said in a statement the sentence was "insufficient" to result in Brock's automatic disqualification from holding public office and that the council had no power to remove him.