Bath's Oldfield School: Leadership concerns 'to be addressed'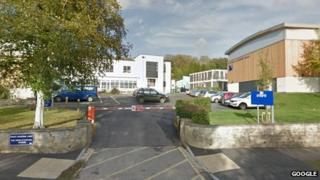 "Leadership and governance" concerns at a Bath academy will be addressed, its chairman of governors has said.
In 2012, Ofsted said Oldfield School was "outstanding" but Stuart Weatherall said an inspection in December "drew completely different conclusions".
During that visit, Ofsted received "a number of complaints from staff" but said some fell "outside its remit".
Inspectors said the "quality of leadership and management" needed "further improvement".
'Report awaited'
A more in-depth draft Ofsted report was leaked by a children's charity website, but as it was never officially published its contents can not be reported for legal reasons.
Instead Ofsted issued a letter, known as a section eight report, but this did not elaborate on what specific problems the academy faced.
Mr Weatherall said the school had been visited by the Educational Funding Agency and was awaiting its report.
"We have also taken steps to address some of the issues that were raised in the section eight letter," he said.
"Ofsted back in 2012 gave us a high degree of assurance that all was well with leadership and governance in the school.
"I wouldn't question that there are issues now we have to address... we are listening to the complaints and grievances that have come forward," he said.
Oldfield School converted to an academy in February 2011 and caters for 775 students aged 11-18.