Hinkley Point legal challenge allowed by High Court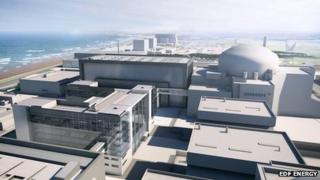 Ireland's National Trust can challenge planning consent for a new nuclear power plant in Somerset, the High Court has ruled.
An Taisce said EU directives meant that being in a neighbouring country Irish people should have been consulted about the environmental risks.
Three judges will hear the judicial review in the Court of Appeal in July.
Last March, the government gave planning consent to EDF Energy to build Hinkley Point C on the Somerset coast.
Under the European Commission's Environmental Impact Assessment Directive, a "transboundary consultation" should have been carried out.
This applies to countries which neighbour Hinkley Point, with Ireland being the closest at about 150 miles (241km) away.
Earlier, Lord Justice Sullivan said An Taisce had an "arguable point" and the judges at the July hearing should give a definitive view as to what the directive meant and whether it should be referred to the Court of Justice of the European Union to decide.