Yeovil Town's Huish Park expansion plan given extra time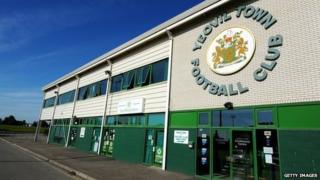 Yeovil Town have been given more time to change plans for a superstore on land near its Huish Park ground.
The club wants a new all-seater stand paid for by allowing the store to be built on the club's training pitches.
South Somerset District Council voted to give the club a two-month deferral to satisfy councillors' concerns
Club chairman John Fry said the delay "will enable us to get our act together".
The meeting was told:
The application did not adequately address concerns as to whether the superstore would draw trade away from the town centre
It did not explain how it would replace the land the club would build on with an equal area of green space elsewhere
The plans did not show how it would improve the highways to cope with any extra traffic
It did not explain why councillors should disregard local and national planning guidelines
Eventually the local authority agreed to a two-month deferral to allow the club to provide more detail.
'Cash offer'
Speaking after Wednesday's meeting Mr Fry said the club has "a lot of hard work to do" in that time.
"[But] we're in a different position now to what we were 12 months ago.
"We've managed to get into the Championship. It's given us that bit more money but we're not going to spend money that will bankrupt the club.
"The big issue is the complication on the land. It's 25 acres 20 of which are public open space.
"The council has accepted that a cash offer is the way to go about this so we've put forward a £2.1m offer for six acres of land.
"We are still looking for land and we would like more help coming from the council and it's interesting that the planning department offered us this help."
The club argues the deal is vital if it is to survive in the Championship.
On its website the club said unlike many other clubs in the Football League it had never approached the local council asking for money.
"We are not doing so now. All we want is a change of use to help fund the club in these competitive times.