Catherine Wells-Burr murder: Couple plea to MoJ over Poland move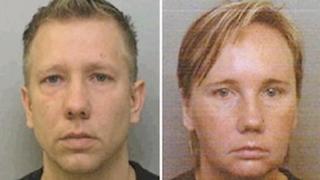 The parents of a murdered woman have met with Justice Minister Jeremy Wright in an attempt to stop her killers being transferred to Poland.
Rafal Nowak, Anna Lagwinowicz and Tadevsz Dmytryszyn were jailed for 32 years in June for murdering Catherine Wells-Burr in Chard, Somerset.
Nowak and Lagwinowicz have applied for transfer to their home country.
Phil and Jayne Wells-Burr fear their terms could be cut by seven years under the Polish system if they are moved.
They urged Mr Wright to ensure Nowak and Lagwinowicz serve the rest of their 32-year prison sentences in the UK.
Mrs Wells-Burr said Mr Wright had listened to what they had to say and she hoped the meeting made "an impact".
She said: "They need to serve their minimum tariff and at the moment Poland is saying they can apply for parole after 25 years and that is a significant difference."
Nowak plotted the murder of Miss Wells-Burr with his ex-girlfriend Lagwinowicz and her uncle, Dmytryszyn, in order to claim a life insurance policy.
Yeovil MP David Laws, who helped arrange the couple's meeting with Mr Wright, said it was an "important opportunity" for the family to put their case.
He said: "I think he will now be more sensitive and informed about the matter when he eventually makes the decision."
Last week a 6,500-strong petition set up by the family calling for Nowak and Lagwinowicz to remain in the UK was handed in to Downing Street.
The Ministry of Justice has previously said the UK had a prison transfer arrangement with Poland and it was committed to seeing more offenders serve sentences in their home country.