Somerset M5 pile-up: 'No road safety alerts in firework guides'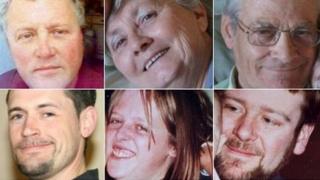 An explosives expert told an inquest into a 30-vehicle crash he could not find literature warning firework display smoke may affect traffic.
Seven people died and 51 were injured in the pile-up on the M5 motorway near Taunton, Somerset, in November 2011.
Witnesses have spoken of a "wall of smoke" coming from a fireworks display in a field alongside the motorway.
But Christopher Case told the Taunton hearing no firework safety literature he saw contained road safety warnings.
Mr Case, who works for Merseyside Fire Service, was commissioned by police to investigate whether a display being held at Taunton Rugby Club nearby on the night had any bearing on the crash.
Fireworks order 'unplanned'
He told the hearing at Shire Hall his research included material provided by the Health and Safety Executive.
Mr Case added he personally knew of no incident where smoke created by a firework display "was so great to disrupt a road on its own".
Geoffrey Counsell, the organiser of the fireworks display, was tried last year accused health and safety breaches but he was later cleared.
Mr Case said he had inspected the electronic equipment Mr Counsell used to ignite the fireworks and found it to be of "excellent quality".
But he said he found it "unusual" there was no pre-planned firing order for the display and that Mr Counsell "orchestrated it as he went along".
The inquest also heard from members of the emergency services, who were first on the scene of the crash.
Combustible liquids
John Dyer, from the South West Ambulance Services NHS Foundation Trust, said a total of 42 ambulances attended the crash scene and William Harvison, from the Devon and Somerset Fire Service, said that within 25 minutes of the accident it had been declared a major incident.
Fire investigator Michael Burroughs said there were three "seats of fire", which engulfed three lorries, nine cars and a van.
The presence of combustible liquids, such as petrol, diesel and refrigeration gases, would have accelerated the fires, Mr Burroughs said.
He added the main point of origin of the blazes was around a car containing Tony and Pamela Adams, from Newport, which "spread out to cause other fires".
The inquest is expected to last several weeks.
Those who died were:
Michael Barton, 67, and his daughter Maggie, 30, from Windsor in Berkshire
Grandparents Tony and Pamela Adams, from Newport, South Wales
Battle re-enactor Malcolm Beacham, 47, from Woolavington, Somerset
Lorry driver Terry Brice, 55, from South Gloucestershire
Lorry driver Kye Thomas, 38, from Cornwall