Liberal Democrats exclude Yeovil councillor Peter Brock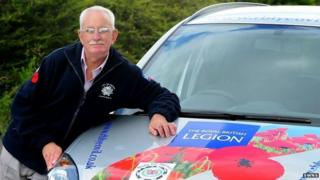 A councillor in Somerset who stole cash from the Royal British Legion has been excluded from his political party.
Peter Brock, 57, admitted taking £1,200 from the Yeovil branch of the Legion while acting as its chair in 2009. He was given a community sentence.
Yeovil's Liberal Democrat group has now distanced itself from him, leaving him to serve as an independent politician.
Brock has been unavailable for comment on whether he will continue in his role as a town councillor.
'Disgusted'
Councillor Tony Lock, Liberal Democrat group leader on Yeovil Town Council, said: "I think the only sensible course of action would be to resign."
He claimed people in the town were "pretty disgusted and shocked" with Brock's actions and "do not understand how he can stay a councillor".
Brock stole the money by writing himself 23 cheques to cash. He pleaded guilty to three counts of theft and asked for 20 other offences to be taken into consideration.
In March, a judge at Yeovil Magistrates' Court ordered him to do 150 hours of unpaid community work and repay the Legion the money stolen.
Yeovil Town Council said it had no power to remove him from public office and the sentence was "insufficient" to result in his automatic disqualification.