Fireworks 'not to blame' for Taunton motorway crash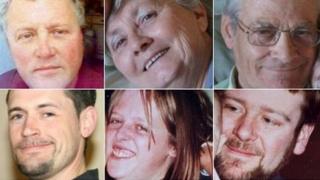 Fireworks smoke was "not to blame" for a crash on the M5 which killed seven people, a coroner has ruled.
The pile-up on the M5 near Taunton in November 2011 happened next to a fireworks display at a rugby club but there was also thick fog in the area.
Michael Rose said: "I dismiss smoke being the cause of the crash."
But the West Somerset coroner added: "I cannot exclude the possibility that smoke may have added to the intensity of the reduced visibility."
Mr Rose said he would meet with transport departments such as the Highways Agency and pyrotechnics organisations about taking measures to avoid a similar incident in the future.
He also said he would inquire as to whether visibility detection devices should be installed on the M5, after it was previously identified as a fog-risk area.
The inquest previously heard from a train driver on a railway line close to the motorway who described how he could only see a few feet in front of him on the night.
Motorists also told of entering a wall of thick fog - described by some as being like a "white curtain", "emulsion" or "custard being poured from a jug" - and were unable to prevent multiple collisions.
Other drivers described smelling smoke or gunpowder on the motorway.
During the hearing, display organiser Geoffrey Counsell denied a bank of smoke from the display at Taunton Rugby Club - which lies 200ft (60m) away from the M5 - had drifted towards the carriageway.
He said he had staged more than 100 displays over two decades and was a member of the British Pyrotechnists Association.
He told the inquest he had met with club officials before the November 2011 display to carry out a risk assessment.
But, he said, the reports he produced were written after the event.
Mr Counsell has previously been cleared of health and safety breaches.
The coroner concluded that the men and women that died did so "as result of a road traffic collision after the vehicle he or she was in entered an area of greatly reduced visibility".
He continued: "There were in the Taunton area pockets of very dense fog - in some cases of such density that only occur once or maybe twice in a decade."
At the time of the accident the fog pockets were "generally small" but there was "an area of dense fog running along a line approximately following the main Bristol to Taunton railway line," Mr Rose said.
"Part of this area of fog may have extended to the perimeters of Taunton Rugby Club and, in all probability, to a height of 25ft (7.6m) or more to reach the motorway.
"Varying plumes of smoke from the firework display, particularly that caught below the inversion area, may have mixed with the fog and therefore I cannot rule out the possibility that they drifted under the inversion to the motorway and may have added to the obscuration."
The seven people who died were:
Michael Barton, 67, and his daughter Maggie, 30, from Windsor in Berkshire
Grandparents Tony and Pamela Adams, from Newport, South Wales
Battle re-enactor Malcolm Beacham, 47, from Woolavington, Somerset
Lorry driver Terry Brice, 55, from South Gloucestershire
Lorry driver Kye Thomas, 38, from Cornwall