Weston-super-Mare sand sculpture festival begins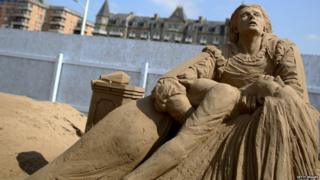 Weston-super-Mare's annual sand sculpture festival has begun.
About 5,000 tonnes of beach sand has been scooped up and compacted for the event.
This year's sculptures, created by 20 international artists, are on the theme Once Upon a Time and include works from The Hunger Games and The Hobbit.
Co-organiser Nicola Wood said: "In just nine years, we have grown from 30 tonnes of sand to 5,000 this year."
Among the "maze of sand sculptures" will be Max from children's book Where the Wild Things Are, Paddington Bear and the "tallest sand sculpture the festival has ever made", according to organisers.
"They're very intricate and very big this year," said Ms Wood.
"But they're actually surprisingly robust: rain does affect them to a degree but we have sculptors on site all the time that help to repair them and tweak them and tidy them up when necessary."
Rachel Stubbs, who has created a work based on one of Aesop's Fables, The Lion and the Mouse, said the sand at Weston was "fantastic".
"As a sand sculptor you must work with all sorts of different types of sand," she said.
"Weston sand is the perfect shape, consistency and it is fine enough to make intricate details."
One of the largest sculptures on show is by Radovan Zivny, from the Czech Republic, who has created Gulliver from Swift's classic novel Gulliver's Travels.
"I've been working here for eight days," Mr Zivny said.
"Sand is one of the few materials I work with, and I like that it is ephemeral and the sand sculpture disappears."
The exhibition is due to run until 5 October.