Bath's Dorchester Street bus gate fines to be refunded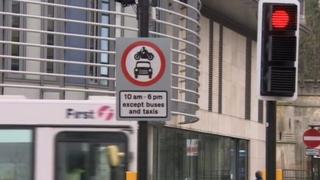 Fines totalling at least £250,000 are to be refunded to motorists caught in Bath's new bus gate system, the leader of the city's council has said.
Liberal Democrat councillor Paul Crossley admitted signs warning drivers about the bus lanes on Dorchester Street were not clear enough.
About 9,000 drivers have faced £60 fines, £30 if paid quickly, for going through the gate since January.
Conservative councillor Tim Warren said he was "delighted" by the announcement.
Bath and North East Somerset councillor Mr Crossley said: "The problem we've got is the signage.
Postage costs
"After listening to all the complaints and comments we are going to be contacting all the people who have paid the fines and reimbursing the money and we will also be looking to cancel those fines issued over the last couple of weeks."
Mr Warren, who has campaigned against the bus gates, said it was a "shame it took so much pressure to do it".
"What Bath doesn't need is isolated traffic schemes - it needs a proper traffic strategy," he added.
"Bath is big on tourism and shopping and if you come from out of town and you get fined you aren't encouraged to come back."
Although revenue from the fines was not counted in the council's budget the cost of reimbursing the money - about £5,000 in postage costs and administration charges - will have to be met by the authority.