Bath park and rail idea explored in transport strategy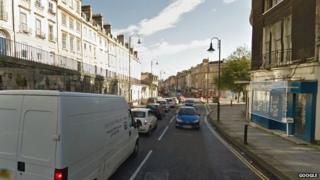 A park and rail plan for the outskirts of Bath is being considered in new transport proposals.
Bath and North East Somerset Council has begun consulting on how to manage growing traffic over the next 15 years.
Council leader, Liberal Democrat Paul Crossley, said: "We're asking people for ideas and when we've got those ideas we'll then develop an action plan and a strategy."
Other ideas include cutting the number of off-street car parking spaces.
The plan itself has a list of aims - such as expanding existing park and ride sites in Bath, finding a new drop-off point for coaches in the city, and more control of HGV lorry movement in Bath.
'Lack of detail'
The park and rail site would be situated on the edge of Bathampton and link up with local rail services.
But the strategy has been criticised by the opposing Conservatives and residents who went to the launch on Wednesday evening and felt it lacked detail.
Conservative leader at the council, Paul Warren, said: "We're disappointed more detail didn't come out.
"We will work cross-party on this, we know we need to sort out congestion in Bath but also in surrounding areas, it's okay sorting Bath out, but we've also got Keynsham, Midsomer Norton, Radstock all these areas.
"It needs to be looked at as one, otherwise one problem causes another one."
The Lib-Dems have said a document will be published in the autumn showing more detail of the transport plans.